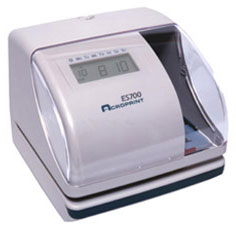 Multi-function side printing time recorder or time stamp
The versatile ES700 time stamp can be used to support time and attendance, job costing, and document control and is designed for a professional office environment.
ES700 at a glance
Accurate — The built-in perpetual calendar automatically advances the date and smoothly handles Daylight Saving Time adjustments. Thanks to internal battery backup, the clock maintains correct time even during power outages.

Versatile — With over 150 possible print configurations and 13 preset messages in your choice of four languages, the ES700 easily supports a wide variety of time & attendance and document control applications.

Flexible — The ES700 features your choice of automatic, semi-automatic or manual print operation and left or right hand print. This time stamp accomodates virtually any time card, document or form with quality printing every time.

Secure — Password protection with a user-selected four-digit numeric password means your program cannot be changed without your knowledge.

Easy to use — The convenient clear cover makes time cards and documents easy to align correctly. The easy to read front-mounted LCD display indicates the date, time and day of week.
Set it and forget it!
Set the ES700 time clock once and forget it. The built-in perpetual calendar automatically advances the date including Daylight Saving Time, while the internal battery backup keeps the clock on time, even during power outages.
Flexible printing options
The ES700 time clock provides automatic or manual print operation on left or right hand time cards — or on any document. Over 150 print configurations are available: selectable hour format (12 or 24) and choice of standard minutes, tenths or hundredths and even seconds. This versatile document stamp also offers thirteen preset messages (RCVD, SENT, IN, OUT, CFMD, FILED, PAID, USED, FAXED, VOID, ORIGIN, APR'D, CMPL'D) in your choice of English, Spanish, French or Portuguese.
Resources and Information
To save these items to your hard drive, right click and select "Save target as..." (or the equivalent command in your browser software). PDF format files require Adobe Acrobat Reader. If you don't already have Acrobat Reader installed, you can download free from Adobe.